Personal Loan Trends & Insights in India - 2023
By: Saral Credit on 07 January 2023
Need for the survey
Survey Methodology
Survey Participants' Demography
Insights & Conclusion
About Saral Credit
Getting a personal loan has become almost a basic need nowadays. However, applying for a personal loan can be full of hassles. How quickly can I get the loan? What's the best deal? Any hidden fees? Is my CIBIL score good enough? By the time one gets answers to these questions, it could leave you utterly frustrated.
At Saral Credit, we believe that taking a personal loan should be very simple and hassle free. Saral Credit is a fin-tech platform which makes getting a personal loan easy and quick.
Need for the Survey
Personal loan is the most sought-after option for individuals to meet short term fund requirements in India.
The following chart establishes this fact with great clarity. It is interesting to see that even the pandemic did not dampen the growth momentum in this segment.
A 2.2x growth in originations by volume and 1.4x growth in originations by value in FY 22 over FY 21 was a major consideration to conduct a survey and understand the borrowers' demography and motivations.
Personal Loans - Originations Summary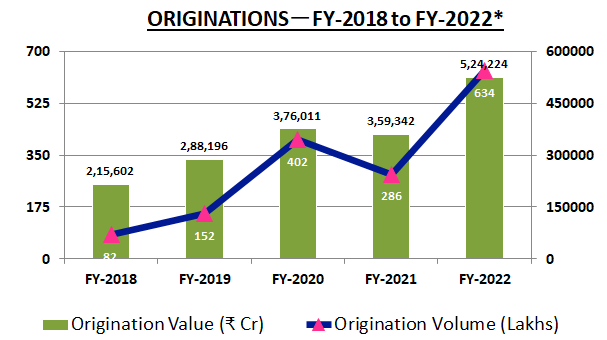 46% growth in Originations (by value) from FY-2021 to FY-2022
33.8% reduction in Average Ticket Size of Personal Loans from ₹ 1.25 Lakhs in FY-2021 to ₹ 83K in FY-2022
The survey has been conducted by Saral Credit for research purposes to provide insights into the personal segment.
* Source of chart : CRIF HIGHMARK CREDIT LANDSCAPE REPORT 2022
Survey Methodology
The survey was designed to reach out to a wide audience with an intention to get insights into the thought process of extensive strata of our society.
An online survey was initiated, and responses solicited. Following was taken into consideration while selecting the audience.
Participation from both male and female should happen
A broad income range from basic to high income was targeted
A broad qualification criterion was also made part of the survey
The aim for keeping the above criterion was to be able to get insights into a broader customer profile
A total of 512 responses were received from various parts of India.
Survey Participants' Demography
Gender | Qualification | Salary
Understanding the participants' demographics is imperative to recognise the survey outcome. As is evident from the following graphs: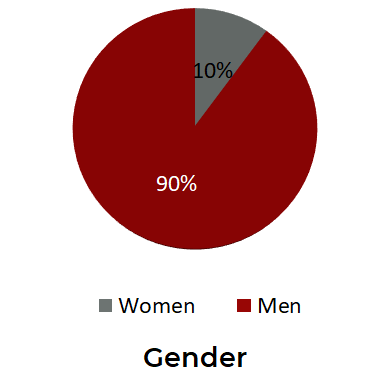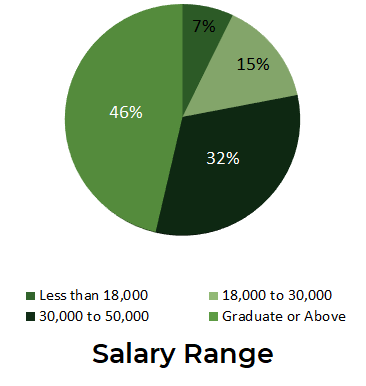 The female respondents comprise only 10% of the overall participants. This could well be attributed to the fact that personal loan is taken by lesser number of females
While 91% of respondents were graduate and above, only 2% of the respondents has confirmed that they have not undertaken any formal education
Insights & Conclusion
Have you ever taken a personal loan?
67% of respondents have taken a personal loan at some point of time to meet their requirements
Given the rigors of the underwriting process for an unsecured personal loan, 67% of the respondent respondents confirming to have taken a loan only testifies that the survey is well poised to be giving right indications. (The usual approval rate for a personal loan product for most of the financial institutions stand at about 50%)
How important is it for you to have emergency funds?
The Indian populace seems to be gaining maturity in regard to the financial planning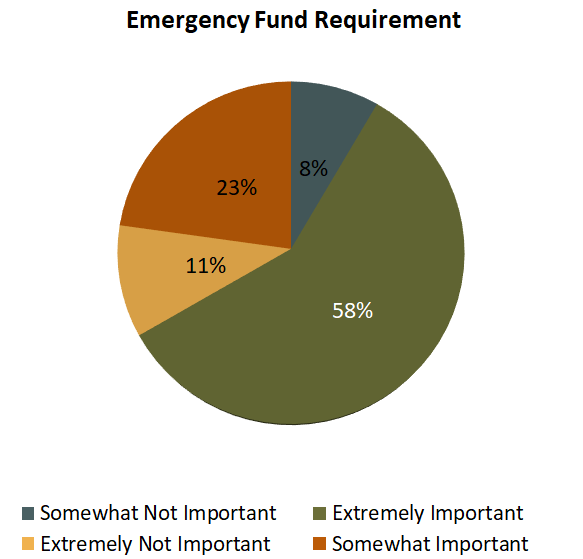 58% people mentioned that having an emergency fund carried high importance for them. Realising the importance of this fund only testifies that a larger group of salaried people has started to work towards a well-planned financial road map for themselves.
An overall 81% people mentioned that having an emergency fund is important, which is higher than the percentage of people who took a loan
Purpose of Personal Loan
Since it is a cash transfer into the borrower's account, defining the end use of the loan proceeds cannot be ascertained. Borrowers take personal loan to meet fund requirements for various purposes.
36% of respondents taking a loan for home purchase or renovations is a bit of a surprise.
9% people took a personal loan from travel and vacation is a new insight. This only indicates that the working class is today ready to pay high interest for funds giving them access to experiences.
What is most important factor while choosing personal loan?
The following chart throws light on some interesting points: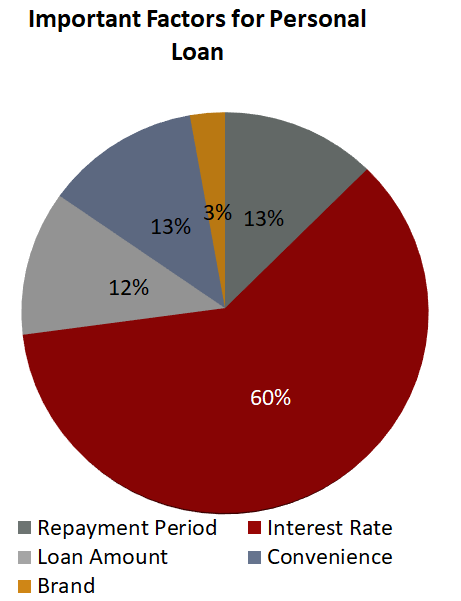 The interest rate continues to be the most important factor for the borrowers to choose the loan provider. 63% of population indicated that their decision to choose a personal loan would be based on the interest rate being charged.
Loan amount, repayment period and convenience of taking the loan carry almost equal importance among the borrowers.
Interestingly, the brand value has also started to reflect in the factors that carry importance and has been ascertained as the most important factor by 3% of the population.
What are your challenges while taking personal loan?
While today we come across various communications from the lending institutions about the ease of process for availing a loan, some even claiming to be giving approval within minutes, the ground reality somewhat seems to be different.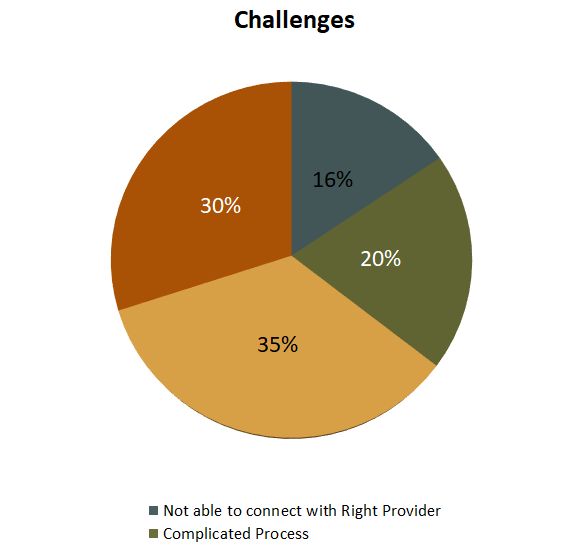 30% of population feels that the process is time consuming
20% of the population finds the process to be complicated
It is surprising to observe that 16% were not able to connect with the right provider
Which type of institutions you will prefer to avail personal loan?
Is it right to presume that the borrower will not discriminate between the lending institutions till the time the funds need is getting attended. The following chart shows a different mindset of the borrowers.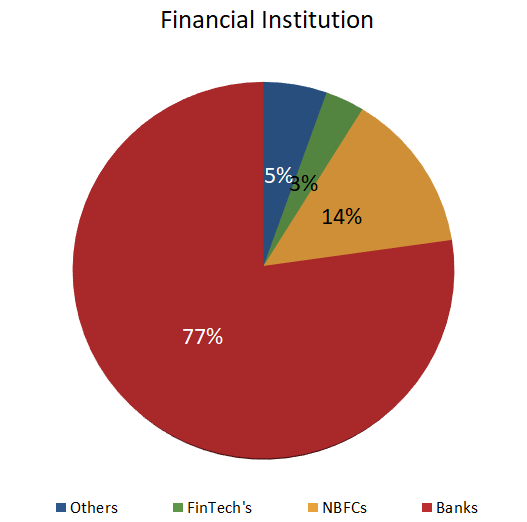 A significant 77% population would prefer to take a personal loan from banks
While a 14% population preferred a non-banking financial institution, only 3% mentioned fintechs to be the preferred institution for a personal loan
5% of population still prefers lenders other than the popular institutions to meet their short-term fund requirements
Which type of medium you will prefer for applying personal loan?
The internet and smart phone penetration in India has led to revolutionizing both processes and outlook of the populace in general. Same is consistent for the medium that people would prefer to apply for a personal loan.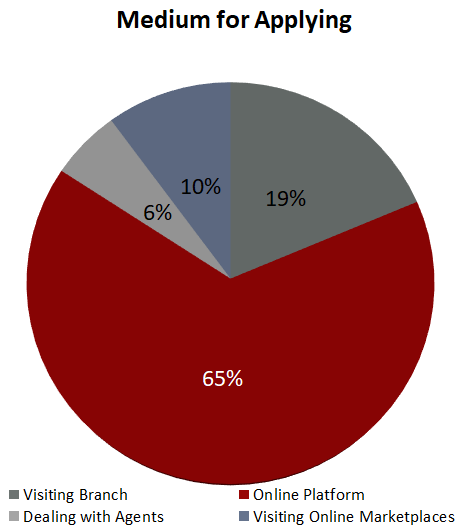 68% of population would prefer completing the application process online
19% of the population will still prefer to visit branch for availing the loan
7% population still wishes to have an agent completing all the formalities for them
How important is interest rate for you?
The Indian population in general is perceived to be sensitive to the price point. The following chart is testimony to the Indian mindset.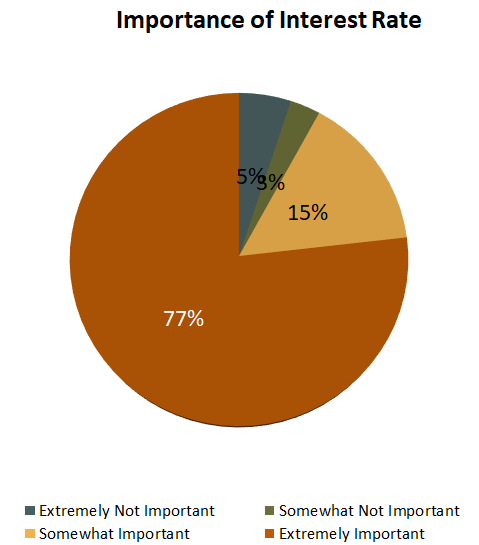 Majority of loan seekers, a 77% of the population, mention that the rate of interest being charged is extremely important for them
Another 15% state that the interest rate is somewhat important
Thus, the population casting significant importance to rate of interest comes to 92%
How important is processing fee for you?
Processing fee is another important element that adds to the cost of funds.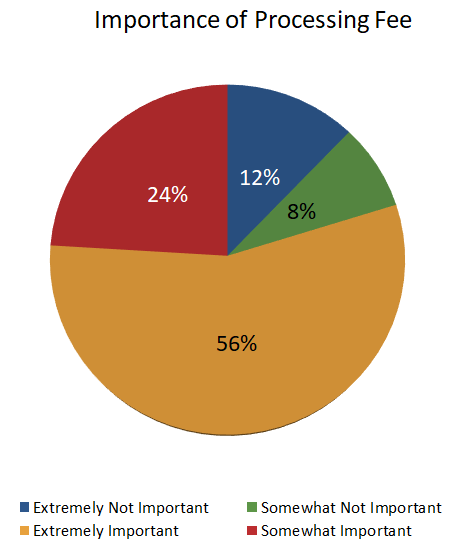 56% of population mentions that this fee carries extreme importance for them
Another 24% state that the processing fee does carry importance
This takes the tally of people giving importance to the processing fee to a high 80%
It means that the borrowers may take the processing fee into consideration while deciding on the lending institution
How important is long term personal loan tenure for you?
The term of loan has a direct impact on both eligibility and affordability from the borrowers' perspective. The following chart is concurrent with these facts.
43% mention the loan term to be extremely important
35% mention that it does carry importance
Thus, a total population of 78% state that a longer term of loan would be preferred
Only 22% of the population stating that the loan term is not as important only reveals that even the higher income group; income greater than 50,000; would also prefer a longer term to avoid the monthly installment impacting their monthly budgets (46% of population had over 50,000 income per month)
Will you like to use online platform to compare personal loan and applying from there?
Availability of facts just at a click has led to smarter and informed consumer base.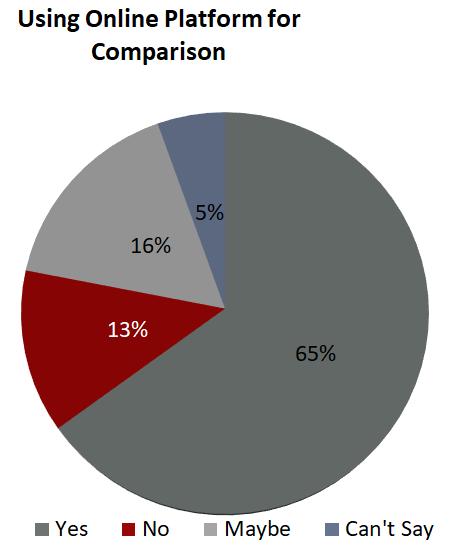 65% of the population would use online platform to compare personal loans and applying from there
The balance 35% population is either not sure or will not be comparing the loans using online platforms
Applying online was preferred mode for 68% of the population and here it is 65% meaning that the borrowers may be comparing and then applying directly through the websites of the banks (since banks was the preferred loan provider)
Only 6% would prefer applying for the loan through a marketplace but 65% would definitely compare the loans using an online platform
Have you ever taken a loan from Online Financial Marketplace?
An extraordinary growth of financial marketplaces has been experienced over past decade. It has been presumed that these platforms will become a go to place for comparison and applying for a loan. However, some interesting facts are confirmed in the following chart.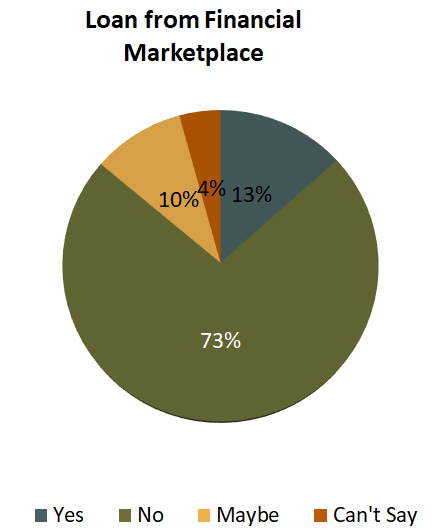 57% of population has taken a loan from a medium other than the marketplace
Only 32% of population has availed a loan using the marketplaces ever in past
There still seems to be some amount of ambiguity on understanding where people are not able to differentiate between a marketplace and other direct lending platforms. This is evident from the 11% of the population who are not sure if they have ever taken a personal loan from the marketplaces
While 65% of population indicated their interest in comparing and applying online platform only 32% has confirmed that they have taken a loan from a financial marketplace.
How frequently do you check your credit score?
Credit score is an integral part of the financial health of any individual. The credit score is not indicative of one's capacity to repay the loan but is also an important factor that impacts the cost of funds.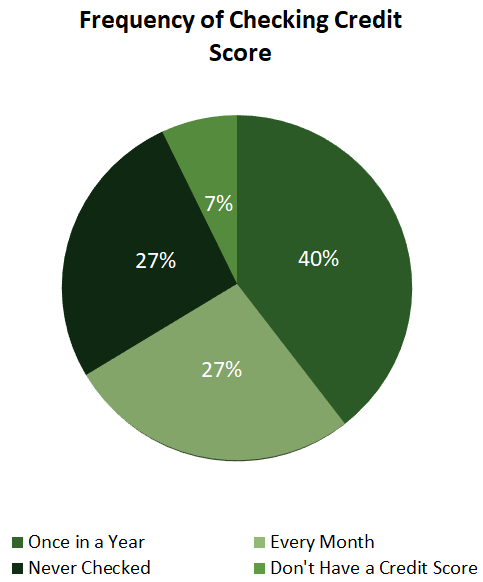 It is heartening to observe that over one third of the population has been checking the scores at least once a year
27% population is now checking the scores on a monthly basis
7% of the population confirms not having any credit score
Conclusion
"Personal Loans" are poised to persist as the sought-after loan instrument since this loan product has made inroads into people with all educational backgrounds including the ones who claim not to have completed formal education.
The borrowers seem to be well positioned on taking a holistic view and taking three important elements viz. convenience, cost and trust to decide which institution they prefer for personal loans.
All lending institutions, barring the scheduled banks, have a long way to go before they could penetrate into this segment. This also indicates that all these institutions are also poised for a growth trajectory as their own processes and reach to masses improve. The data on challenges faced by borrowers is indicative to the fact that there is a need to ongoing review and upgrade of the online processes.
After 2 decades of presence, the credit scores seem to have made inroads into the financial life. This is a positive sign since awareness will have a direct bearing on the repayment patterns of the borrowers. 8% of population that could not complete formal education is consistent with the 7% population that does not have a credit score.
Also, the fact that today a plethora of marketplaces and other financial institutions are sharing free credit score and report, it could be well one of the reasons for people to be checking their scores regularly.